The Sedgwick County EMS Honor Guard was officially established on April 13,
2005 by a group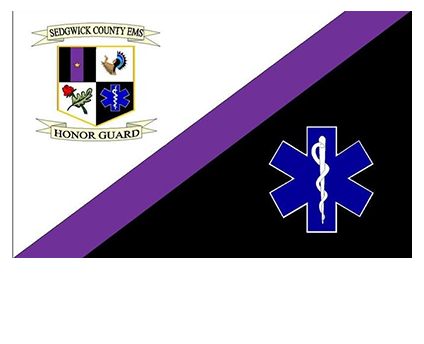 of dedicated paramedics who wanted to ensure that the lives of fellow co-workers, paramedics and EMTs, as well as allied agency personnel would be properly memorialized in the event of an untimely death, on or off duty.
In a matter of years, our Honor Guard has grown from a fragile idea, to a strongly rooted, highly recognized part of not only our organization, but among the nation's most recognized EMS specific Honor Guards.
Since the official organization of the SCEMS Honor Guard, in light of Lt. Finney's death, the Honor Guard wanted to ensure that the spirit of honor, reverence and respect would not be an afterthought of our organization. Since the inception, several members have worked together to describe the purpose of the Guard so that its mission is clear and perpetuated. The following are the five-fold purposed as outlines by the Sedgwick County EMS Honor Guard policies and procedures:
1) The purpose of the Honor Guard is to represent Sedgwick County EMS in an effort to show our respect, gratitude, pride and integrity as a public service of the community.
2) To honor and respect SCEMS employees, public servants and lay people by a showing of our service's decorated, uniformed participants
3) To create unity among public services including the Fire Departments, Police Department, Sheriff Department, and other public service and public safety entities.
4) To portray an image of discipline and professionalism and to teach non-Honor Guard personnel guidelines for conduct at uniformed events requiring such conduct (i.e. funerals, parades, special events, etc.)
5) To raise public awareness of EMS as a part of the services provided and dedicated to the interests of the community.